Chartrange is one of the North West's leading contractors, specialising in Bulk Earthworks, Demolition, Remediation and Civil Engineering.
The company was founded in Manchester in 1985, with bulk excavation and disposal requirements being the core services offered. Quickly expanding into the fields of Quarrying and Landfill, Chartrange quickly became more than a Bulk Earthworks contractor, and now offers construction clients a complete 'one stop shop' solution.
The Chartrange Group is divided into four main sectors: Bulk Earthworks, Demolition, Remediation & Civil Engineering. Each of our divisions is managed by key personnel from the senior management team.
Read an overview of our core services below…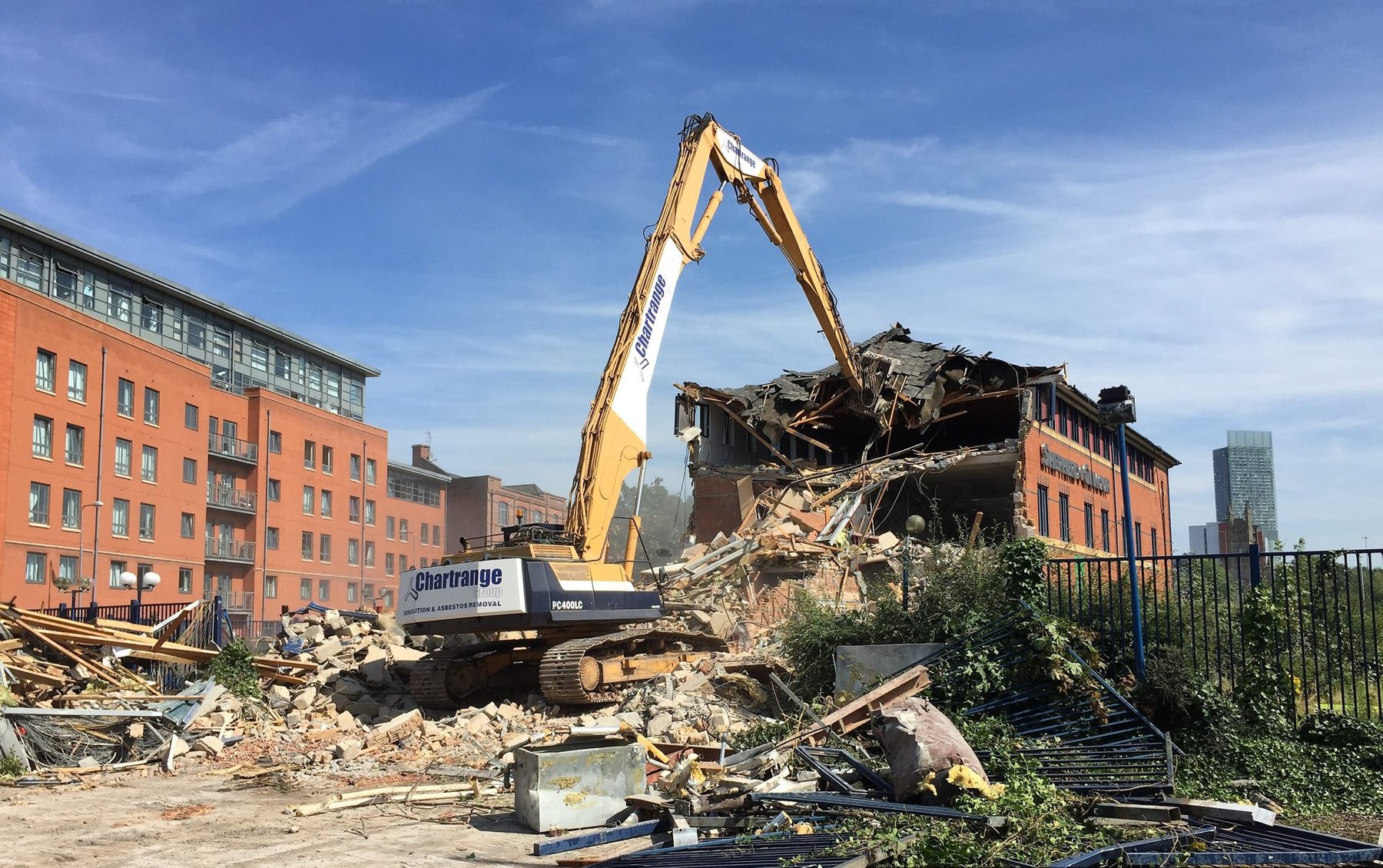 With the number of new commercial and residential developments in the UK increasing at a substantial rate, demolition services are more in demand than ever before. In order to free up enough land to cope with the demand for new construction projects, it's important to demolish unused buildings in a safe and secure manner.
Demolition is much more than tearing down existing brickwork. All projects must be fully assessed and appropriate health & safety precautions implemented before any work is carried out. For successful execution, we carry out extensive pre start surveys and issue comprehensive risk assessments, method statements, phasing plans, waste management plans and where necessary, traffic management plans.
This is all to ensure that our demolition works are carried out in the safest and most economic way, with minimal disruption caused to local communities and businesses in the surrounding areas.
Our demolition services
Chartrange offers the following demolition works:
Detailed working plans and implementation strategies
Removal of hazardous materials
Decommissioning of plant and equipment
Demolition of buildings and structures
Resource recovery
Waste removal and reclamation
Waste minimisation – we aim to recycle 100% of materials
All of our sites are fully managed by qualified and directly employed staff, and to ensure that your site is fully prepared for the next stage of development, our specialist in-house decommissioning and demolition contracting teams ensure that all work is carried out effectively and on time.
Recent demolition project
Click here to view one of our recent projects – Ellesmere Street, Manchester – where we undertook demolition works of two office units on the site, in order to prepare for the new development which created 232 high-specification, living spaces.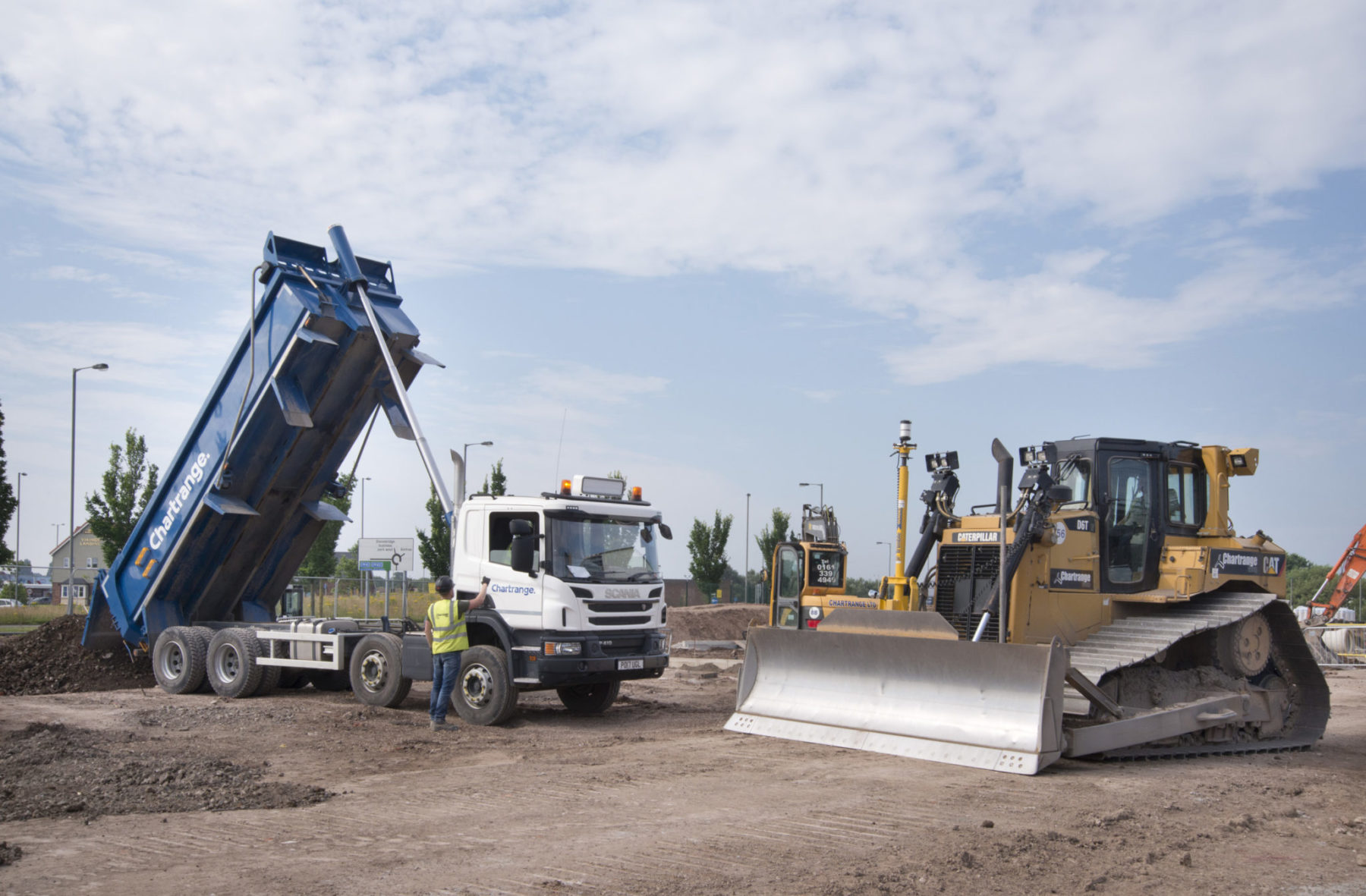 Bulk earthworks are a service that we've been offering since our initial formation over 30 years ago. In a similar way that this operation is an important part of the early works on any site development, it also helped us build the foundations for the Chartrange Group.
What are Bulk Earthworks?
The process of bulk earthworks, or excavation, is an essential starting point to any construction project. The work fundamentally paves the way for any type of construction work from residential and commercial buildings to roads and railways, and causeways, dams, mines and much more.
In order to undertake any type of building work, it's important to ensure that the construction site is properly prepared to correctly lay the foundations. This means that the site has to be at a suitable level and height before proceeding, which is where bulk earthworks plays its role.
The work carried out includes removing, moving or adding a large quantity of soil and/or rock from one part to another. The specific amounts and whether additional materials will be required all depends on the individual project, and the state of the site prior to the work. There are two different ways that this will usually be performed:
Excavating the area by cutting or digging into the land.
Constructing a new area from scratch, which will entail adding earth based materials to the location and creating a new site, such as an embankment which can then be built upon.
The main aim with bulk earthworks is to ensure that materials are utilised on site where possible, in order to reduce the environmental impact from the excessive import and export of earth based materials, which in turn dramatically reduces costs. Our main priority is to ensure that we use as much of the excavated earth as possible to reduce waste material, although there are instances where this may not be viable, in which case we endeavour to have waste materials either recycled, or sent to an EA licensed tip in case of contamination.
Our many years experience in bulk earthworks, combined with the skills and expertise of our team and our in-house fleet of plant and specialist equipment allow us to undertake major contracts, and tailor our services to manage complete projects or individual elements as requested.
Recent bulk earthworks project
Click here to view one of our recent projects – First Street, Manchester – in which we performed whole site earthworks in order to make way for a multi-million pound development housing a new shopping/leisure complex, hotel and multi-storey car park.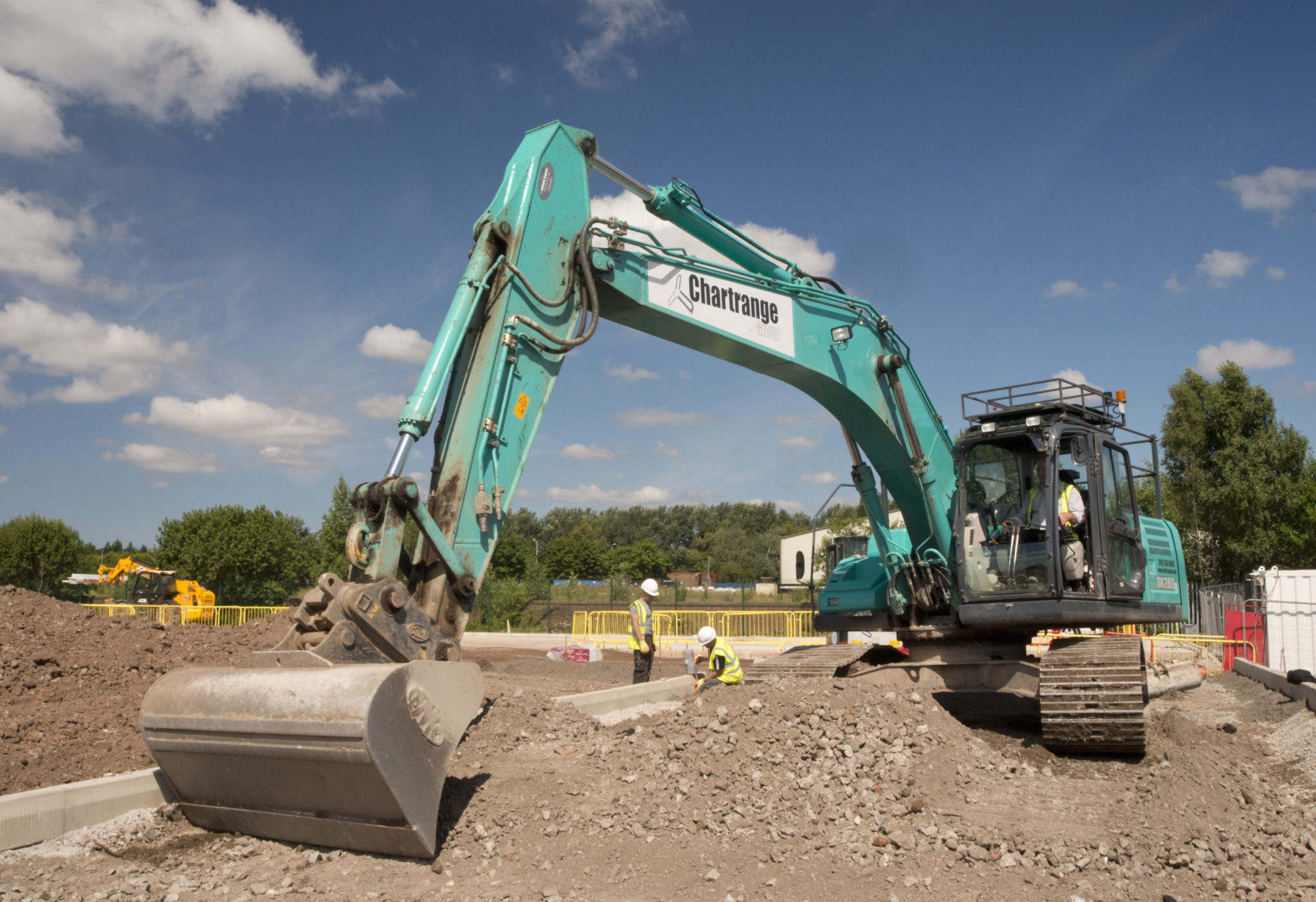 Remediation is the process of regenerating and managing industrial land, by removing contamination from soil and water using the safest and most environmentally friendly methods.
Depending on the scenario and the purpose of the site itself, contamination can pose great ecological and human health risks if immediate action isn't taken. Remedying the problem, whether done by removing the contamination or treating it to safe levels, is an important operation that should be carried out with great precautions.
Every remediation project is different, and no two sites have the same level of contamination or will need to be executed in the same way. Chartrange undertakes thorough investigations and assessments prior to any work being carried out, and we ensure technical excellence in both the finished site and with detailed testing, QA surveys and reporting for regulator sign-off.
Our remediation works cover:
Site investigations
Risk assessments
Volumetric analysis
Remediation strategies
Implementation, supervision & validation
At Chartrange, we understand that the requirements for remediation works need to be actioned immediately, which is why we ensure that our services are promptly completed and result in your brownfield or contaminated site being handed over to follow on trades in a timely and exemplary standard.
Our remediation schemes are offered at fixed prices, and are completely warranted, insured and delivered by industry leading specialists.
Recent remediation project
Click here to view one of our recent projects – Middlewood Locks, Salford – where we were appointed as subcontractors to perform full site remediation in preparation of the £700m development.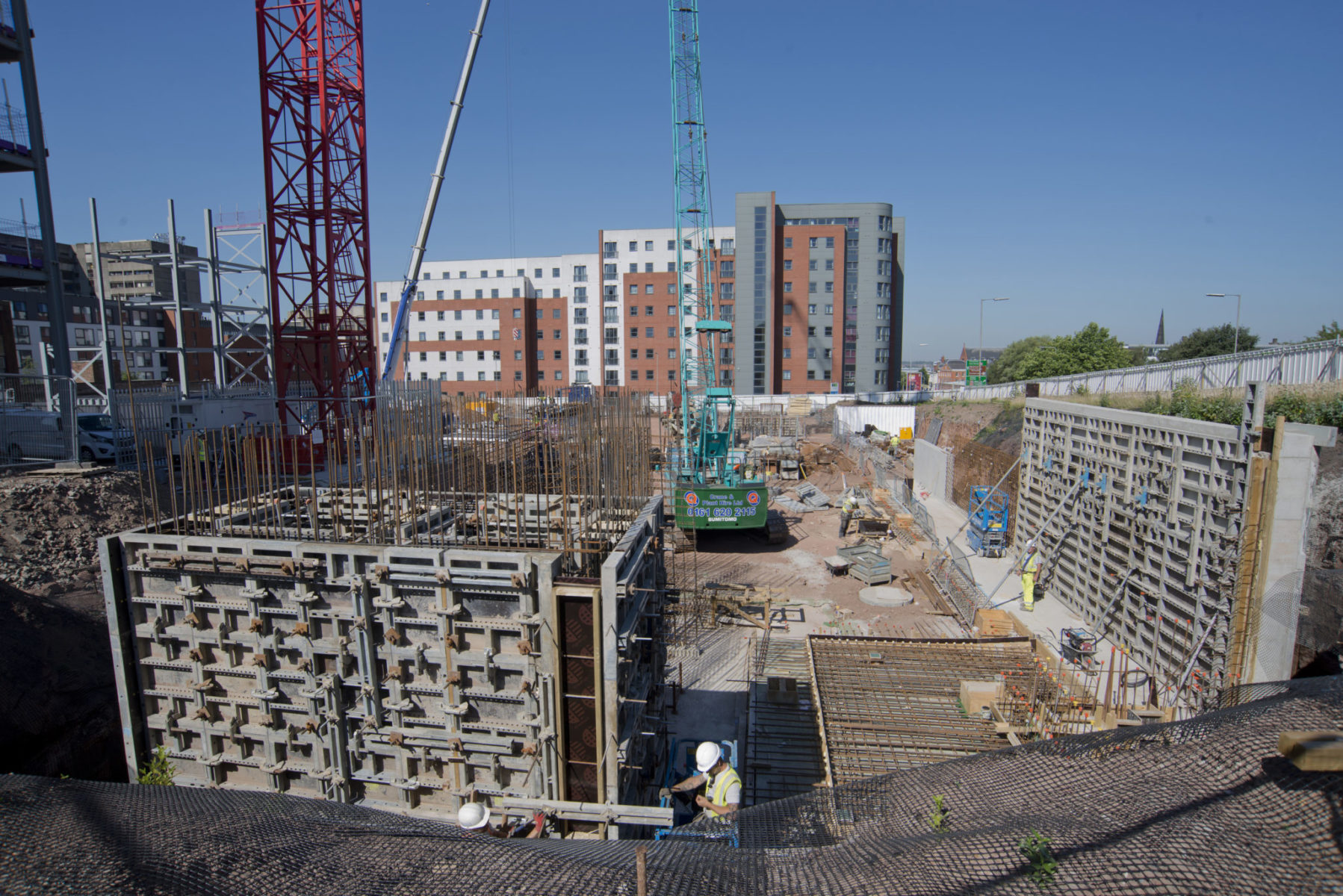 Civil engineering is a service required day in, day out all over the world. It's all about building and maintaining the systems that we need and use in every day life, from roads & railways, to water & power supplies, to schools & hospitals and much more.
The civil engineering division of Chartrange has been operating since 2008, and makes up a large percentage of the work carried out by us. To ensure that all of our projects are delivered to the highest standard, we employ our own multi skilled and professionally trained workforce, who are able to deliver results on time and to the clients' requirements.
Our skills and expertise allow us to successfully take on civil engineering contracts of all sizes, with the in-house capabilities to assist with all aspects of early design work and budget preparation with the end result being a practical and cost effective solution.
Chartrange has worked on an array of different civil engineering projects, from sewerage systems to pipelines, roads, bridges, canals and railways.
Our Civil Engineering works include:
Pile cropping (with disposal of arisings)
Foundations / holding down bolts
Reinforced concrete and retaining walls
Shallow or deep drainage (including attenuation tanks & interceptors)
Internal and external concrete slabs
Highway works (from formation and capping (including supply of materials) to kerbs, edgings & tactile paving)
External works (from timber and concrete edgings to block paving, landscaping & top soiling)
Recent Civil Engineering project
Click here to view a recent project – Food Hub, Liverpool – where we provided civils, along with earthworks & groundworks, for the new 65,000 square foot market.
The Chartrange Group continues to grow, and has gained an invaluable reputation in the North West throughout the years. We have continuously delivered successful projects, working with some of the UK's leading contractors on exciting new developments. This has lead to us receiving repeat business from a large range of clients who appreciate our ability to deliver a one-stop solution to groundworks and construction to the highest standard.
If you want to work with us, or have any questions about our services, please don't hesitate to get in touch with us and our team will be happy to help.