Working in the construction industry, our fleet of vehicles and plant machinery are fundamental to the work we carry out.
We undertake demolition, remediation, bulk earthworks and civil engineering on a daily basis, and so we take great pride in the fleet we have grown over the years.
As the Chartrange Group expanded, naturally so did our range of top quality, robust and durable plant machinery and vehicles. We now have over 50 plant machines, owned and operated by Chartrange in-house.
Our vehicles and plant are serviced and maintained by our experienced team of plant fitters. We think it's important to own and maintain all of our own vehicles within the Chartrange Group, to ensure that we're always fully equipped to successfully deliver projects, with high quality and reliable machinery. Our work covers a wide range of sectors, and different projects require different machinery and vehicles – all of which we ensure are on hand and ready to use.
Delivering successfully on all of our public and private sector jobs day in and day out is a smoother process with the help of our heavy duty machinery, all of which is sourced from the worlds best and most reputable manufacturers including CAT, Hitachi, Anmar and many more.
We promote the highest standards of health and safety at Chartrange, and all of our machines are operated by competent CPCS trained employees at all times.
Here are some of the different vehicles and plant machines owned by Chartrange.
Excavators
Our excavators are a staple piece of equipment needed to undertake all of our demolition projects, underground excavations and jobs that require digging trenches and holes in order to lay foundations. Excavators are the key to helping projects work more efficiently and effectively, and offer multiple uses from digging to moving or lifting heavy objects.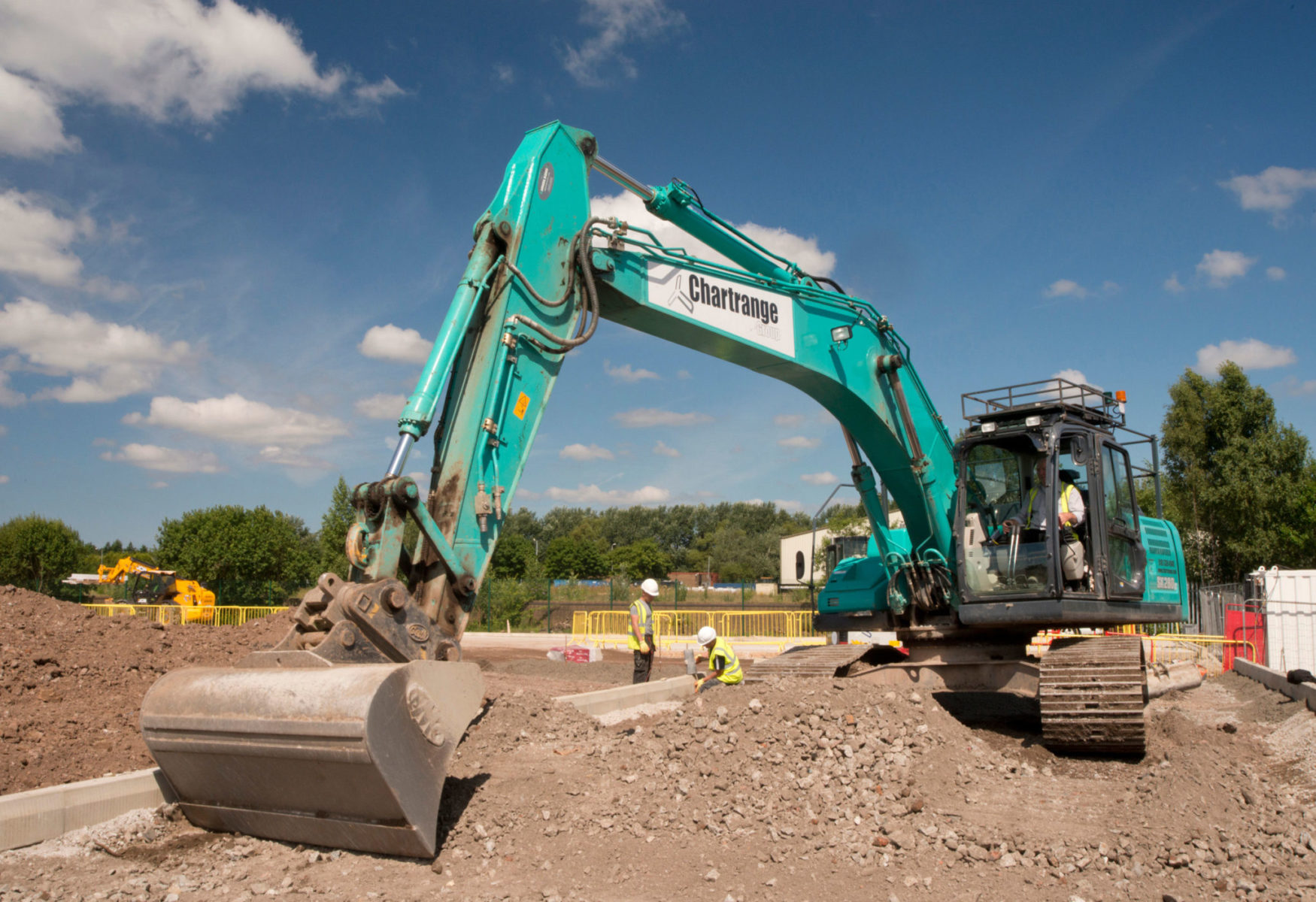 As such an essential part of our operations, we own an extensive fleet of excavators ranging from 3Ton – 50Ton from the best manufacturers around, including: Kobelco, Hitachi, CAT, Doosan, Takeuchi and many more.
From mini excavators to large excavators and wheeled excavators, having a wide selection of different types enables us to take on both large and small scale constructions, with the knowledge that we have one perfectly suited to fit the job in hand.
Dumpers
Dumper trucks are crucial to all aspects of our work, as they provide a way to transport loose materials from one place to another. We rely on the use of tipper trucks to carry out a majority of our work, with bulk earthworks being especially dependent on them. To reduce our environmental impact, dumpers ensure that we have the means to reuse earth materials onsite whenever possible. When this is not viable, our bulk disposal services ensure that materials are either recycled or due to contamination, sent to an EA licensed tip.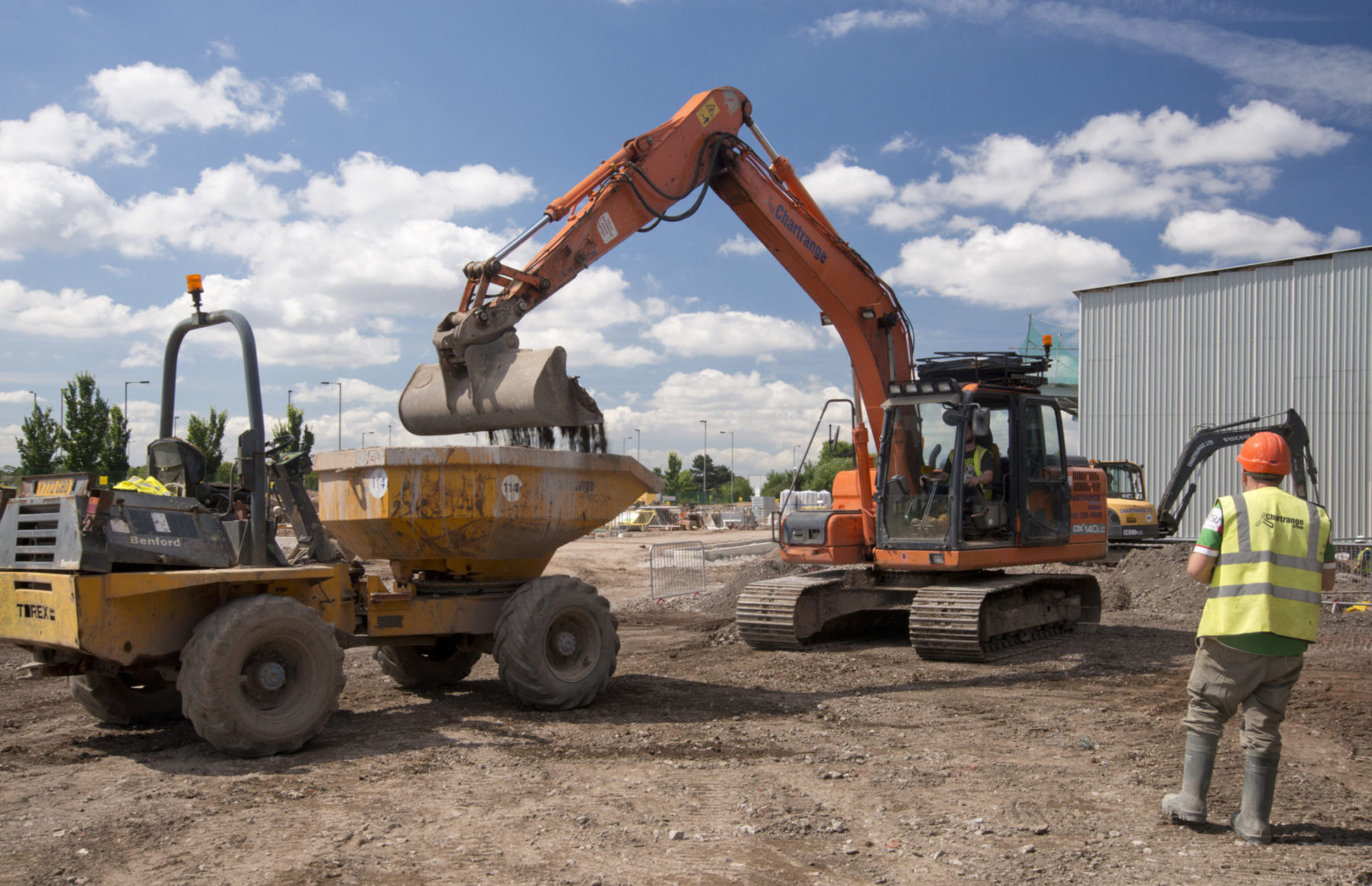 We carry an extensive fleet of modern tipper trucks, all of which are accredited to FORS standard and equipped with the latest industry leading technology. Our tipper trucks work to support Chartrange Enviro, a division of the Chartrange Group which was established to service the construction industry in the disposal of materials and importation of aggregates.
Our dumpers are some of the best on the market, ranging from 3Ton-25Ton and sourced from reputable worldwide manufacturers Thwaites, Volvo, Terex and more.
Rollers
Our fleet of rollers ensures that we can effectively carry out all construction projects, whether that be road construction or creating compact foundations on large sites to allow for build. They are vital tools in the process of compacting loosely bound foundation materials by applying direct pressure to crush, knead or vibrate the materials to ensure they do not come loose and remain in a solid, compact state.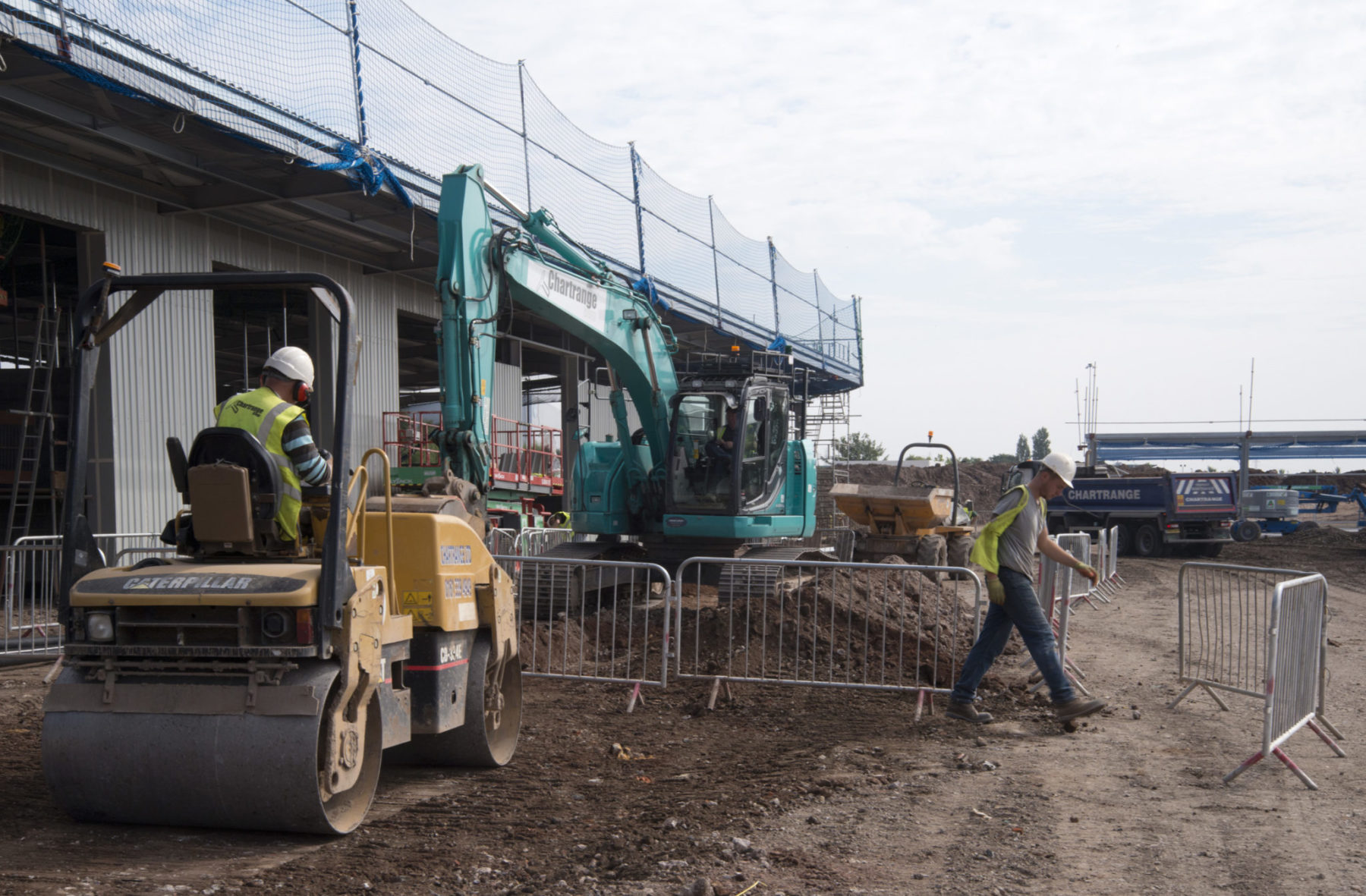 We have a range of dfferent rollers in various styles, all encompassing numerous features to successfully carry out the required work depending on the type of job in hand. Some of our top performing rollers are those from CAT and Anmar, both manufacturers offering a smooth and effective operation with a great range of drum widths allowing us to match specifically to the job requirements. High frequency and force of compaction are key to getting the job done effectively with perfectly smooth results.
Screeners & Crushers
Delivering on our civil engineering projects would be near impossible without our range of screeners and crushers. This equipment is vital to performing any size-reduction process, whether that be producing aggregates or crushing tons of hard rock material.
The Powerscreen Warrior 1400 screener is our preferred choice of heavy duty screener here at Chartrange, capable of tackling all aspects of scalping, screening and recycling applications. This machine can be self-powered with its own 72kVA generater, or connected to a mains electrical supply with an output potential of up to 500 tph.
Excessive waste materials are a common result of all construction work, and is present among all different jobs no matter their size or requirements. Therefore, it's vital that these materials are properly disposed of or recycled, and our Extec C12 jaw crusher is an important part of that process.
The formidable crushing technology of this machine applies an amplified force to solid rock materials in order to reduce the size of the matter for easier disposal or recycling. With a powerful CAT C-9 engine, a large 1200 x 750 mm feed opening and a unique 300rpm crushing speed, the Extec C12 can successfully perform the process fast and efficiently.
Dozer
An essential tool to aid all of our construction and conversion works is our CAT D6 dozer. Used in all aspects of our work from earthworks to construction, this heavy duty vehicle is highly valued by the Chartrange team as an integral part of our fleet, and CAT machinery and systems are always of the highest quality.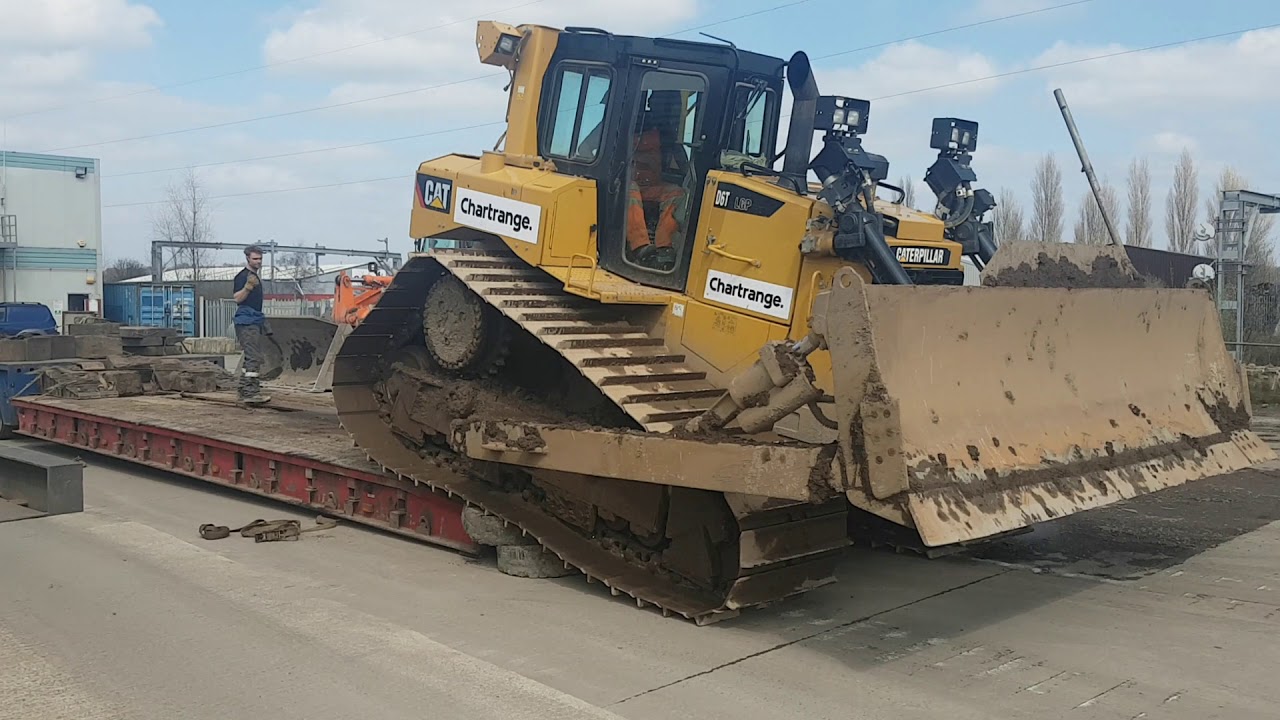 This model comes installed with the AccuGrade CPS control system, which undoubtedly helps us to deliver projects more accurately and efficiently, with the added bonus of reduced labour requirements.
"The AccuGrade GPS Grade Control System is a high technology machine control and guidance system that allows dozer operators to grade with increased accuracy, without the need for survey stakes. Digital design data, in-cab operator guidance features and automatic blade controls help the operator achieve grade faster, meaning higher productivity, lower operating costs, and greater profitability," Caterpillar says of their system.
Loading Shovels
Extracting materials in a safe and efficient manner is paramount to progressing our projects, and our Daewoo loading shovels are the key to this process. Daewoo loading shovels tick all the boxes in the way of strength, longevity and robustness.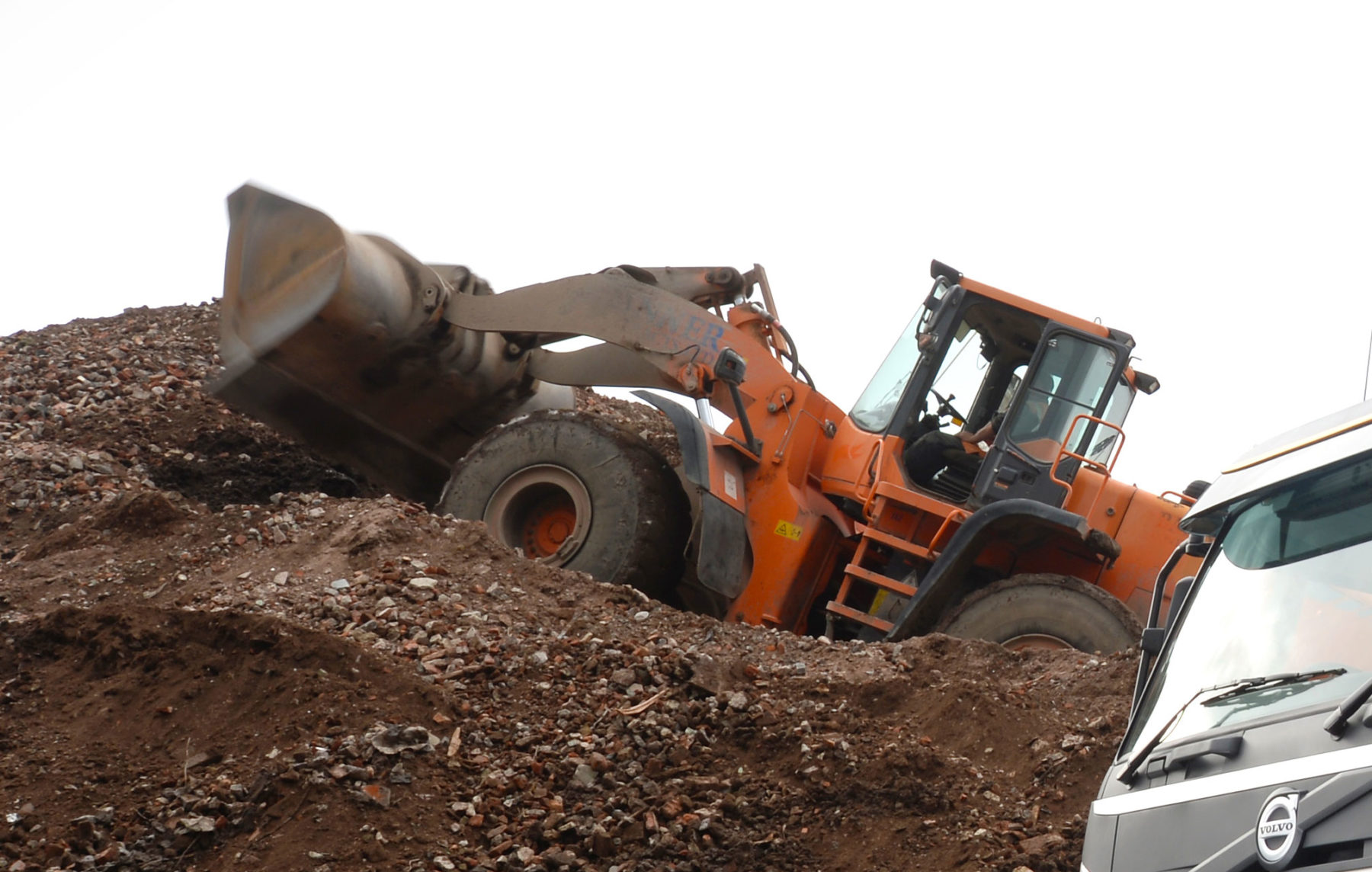 An important requirement of loading shovels is their ability to navigate and reverse safely into tight fitting areas in order to effectively scoop the load and transfer it from one place to another, or load onto a vehicle. The advanced technology and sturdy build of the Daewoo machines ensure that this is a smooth process each and every time.
Specialist demolition equipment
Our Komatsu PC400 high reach excavator is an integral part of all our demolition works. Different to our standard excavators, this one has an especially long boom arm, designed to reach the height of buildings to be demolished, and ensuring that it does so in a controlled manner.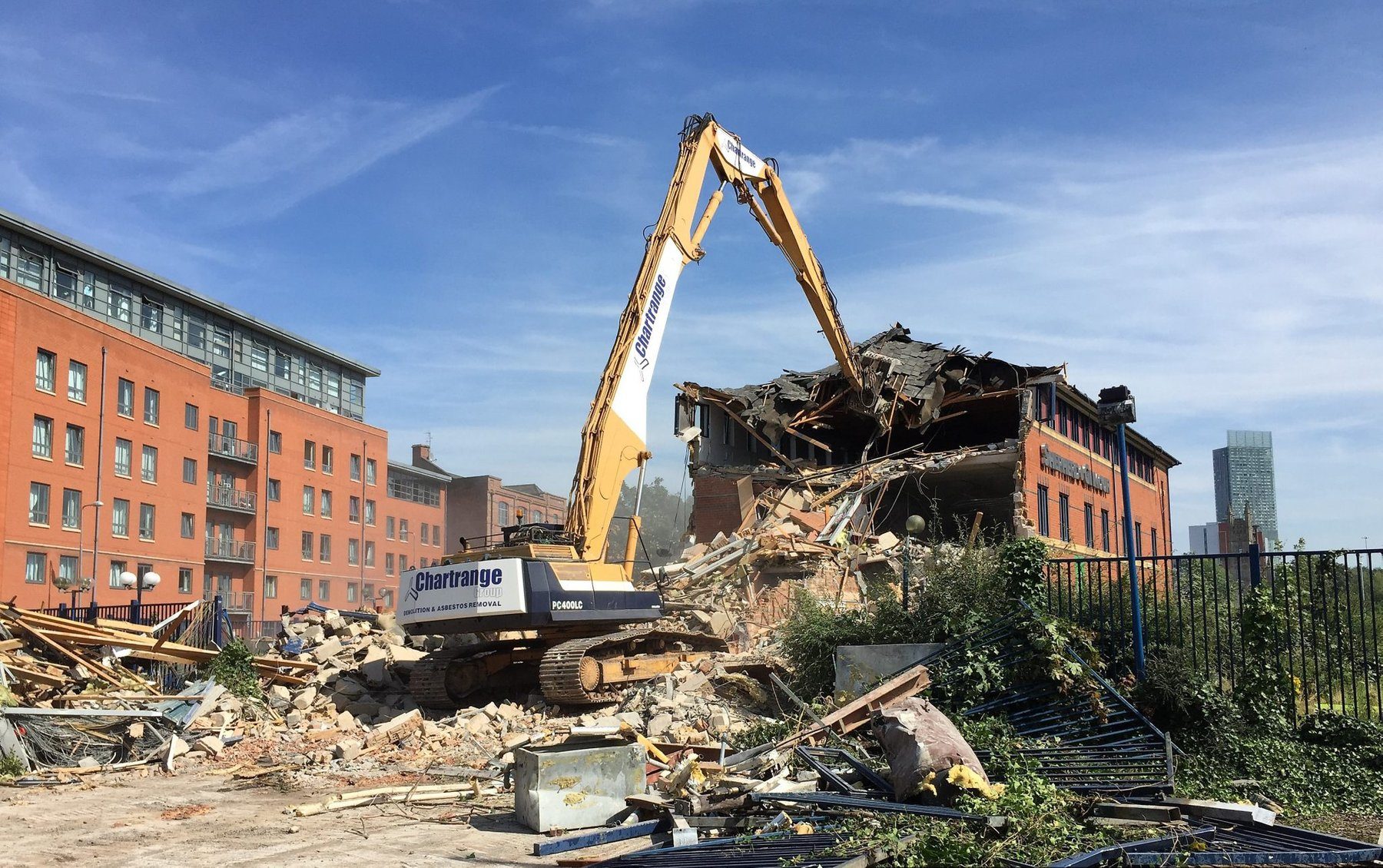 Owning a high reach excavator allows us more flexibility in the work that we carry out, and enables us to take on projects that require the demolition of skyscraper buildings without the need for implosive procedures – which aren't always possible due to the locations of surrounding buildings.
Wagons
Chartrange owns a total of 9 wagons, all from the largest and most reputable manufacturers in the world – Volvo and Scania. These wagons are used for servicing both Chartrange and third parties in waste haulage. Disposing of waste materials in an efficient and environmentally friendly way is a high priority for the Chartrange Group, as we endeavour to minimise our impact on the environment as much as possible. You can read more about our environmental principles here.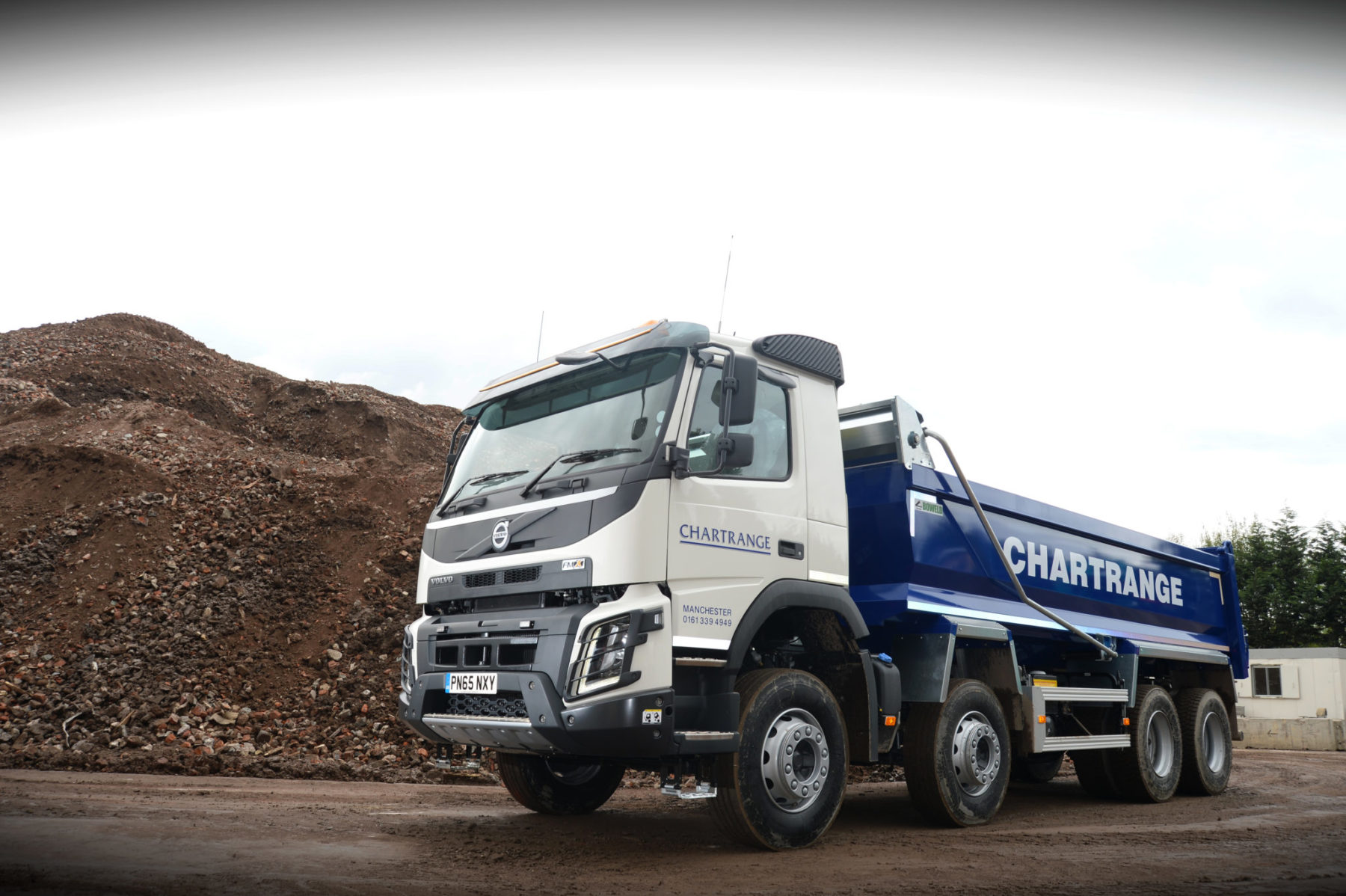 All of our plant machinery and vehicles are carefully chosen by the Chartrange Group, driven by deciding factors such as performance quality, reputability of manufacturers and the best equipment to get the job done.
The Chartrange Group continues to grow, and has gained an invaluable reputation in the North West throughout the years. We have continuously delivered successful projects, working with some of the UK's leading contractors on exciting new developments. This has led to us receiving repeat business from a large range of clients who appreciate our ability to deliver a one-stop solution to groundworks and construction to the highest standard.
If you want to work with us, or have any questions about our services, please don't hesitate to get in touch with us and our team will be happy to help.