At Chartrange, we care about the environment. We value our environmental responsibilities and acknowledge that our operations can have an impact.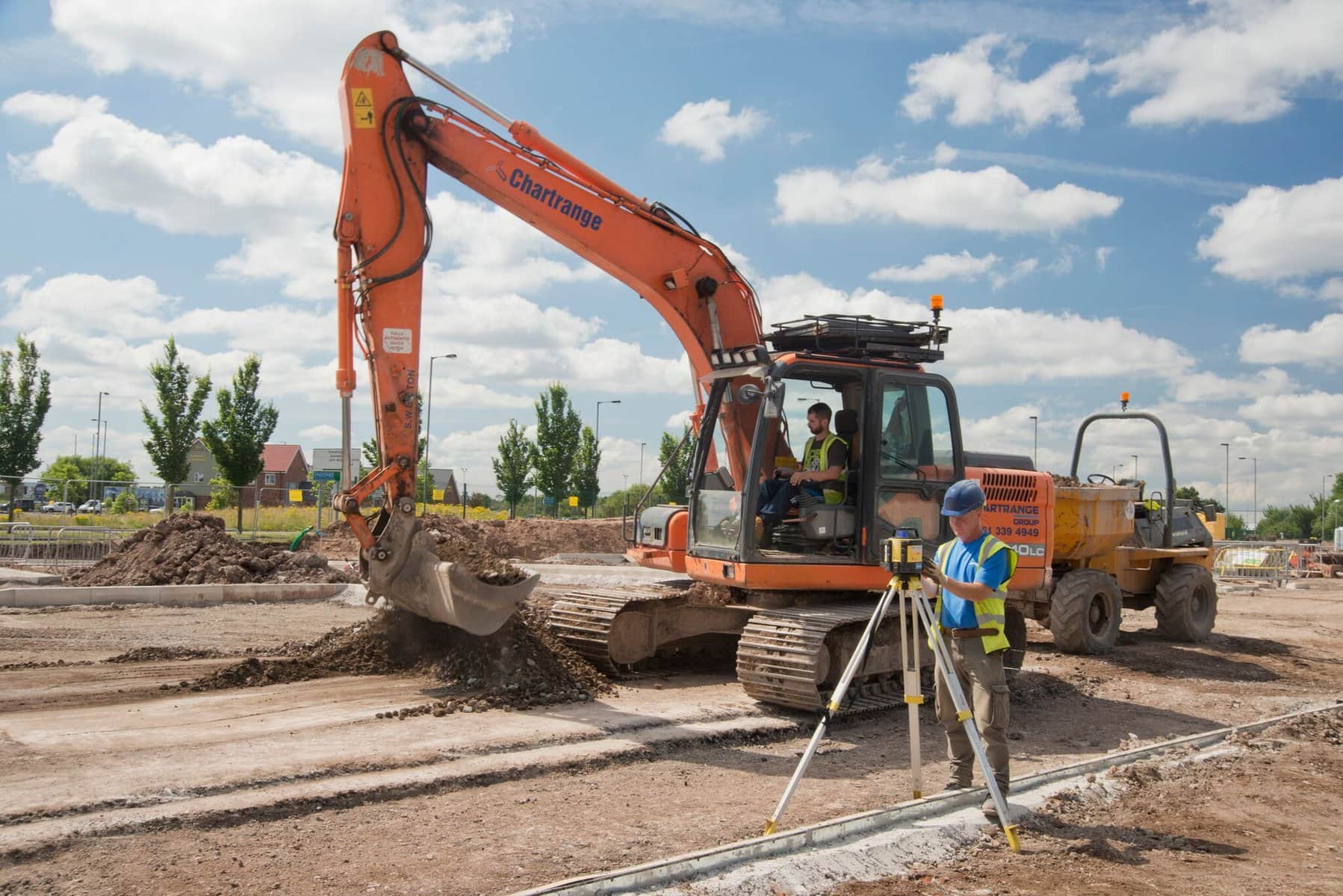 Using more than 400 million tons of material a year, the construction industry can have a detrimental impact on the environment, both locally and on a global scale. This means that we have to consider the environmental impacts created by the way we source materials, and by the processes we undertake to complete a project.
Climate change mitigations are an important issue to consider during any new build and project operation, and it's vital to adapt for future climate change conditions.
"The Earth's climate has changed throughout history. Just in the last 650,000 years there have been seven cycles of glacial advance and retreat, with the abrupt end of the last ice age about 7,000 years ago marking the beginning of the modern climate era — and of human civilization. Most of these climate changes are attributed to very small variations in Earth's orbit that change the amount of solar energy our planet receives." – NASA
In the fight against climate change, we accept our responsibility in minimising our impacts, and take a variety of different steps to do so…
Chartrange's Environmental Management
We are dedicated to putting preventative measures in place in order to minimise our impact on the environment from our construction works. Prior to starting any work, our dedicated teams invest time in thoroughy identifying all significant corporate and project environmental issues that may arise.
Control measures are then implemented to minimise potential impacts, and documented in our Project Envionmental Management Plans. These plans are effective business tools that are fully audited, revised and updated with information during the progression of all of our projects.
Chartrange carries out its operations and activities in accordance with our environmental management system, which has been specially designed to meet the philosophy of the international standard BSEN ISO 14001. The purpose of this international standard is to protect the environment and respond to changing environmental conditions, also addressing socio-economic needs.
Stated by ISO 4001, "A systematic approach to environmental management can provide top management with information to build success over the long term and create options for contributing to sustainable development by:
protecting the environment by preventing or mitigating adverse environmental impacts;

mitigating the potential adverse effect of environmental conditions on the organization;

assisting the organization in the fulfilment of compliance obligations;

enhancing environmental performance;

controlling or influencing the way the organization's products and services are designed, manufactured, distributed, consumed and disposed by using a life cycle perspective that can prevent environmental impacts from being unintentionally shifted elsewhere within the life cycle;

achieving financial and operational benefits that can result from implementing environmentally sound alternatives that strengthen the organization's market position;

communicating environmental information to relevant interested parties."
We endeavour to meet all environmental regulations whilst improving overall efficiency and environmental performance.
Our Environmental Principles
Chartrange's key environmental principles are as follows:
The protection & improvement of the environment

The prevention of pollution

The promotion of re-use & recycling of materials

The minimisation of waste

The minimisation of energy & material usage

The effective management & disposal of waste
Due to our bulk earthworks heritage, we always endeavour to re-use earth materials where possible to limit wastage and the need for disposal. By doing so, we can help to reduce the environmental impact from excessive import and export of bulk earthworks, whilst also dramatically reducing costs. Utilising materials on site is usually viable, and is often done by simply moving them from one location to another, if the project and location permits.
"In 2001 construction site and demolition waste inBritain was 94 million tonnes (24% of all waste generated). Each year there are around 13 million tonnes of materials that are delivered to site but never used. " – Digest of Environmental Statistics
However, we acknowledge that there will occasionally be instances where there isn't possible. In these eventualities, our bulk disposal services ensure that material is either recycled or due to contamination, sent to an EA licensed tip.
We aim to recycle 100% of materials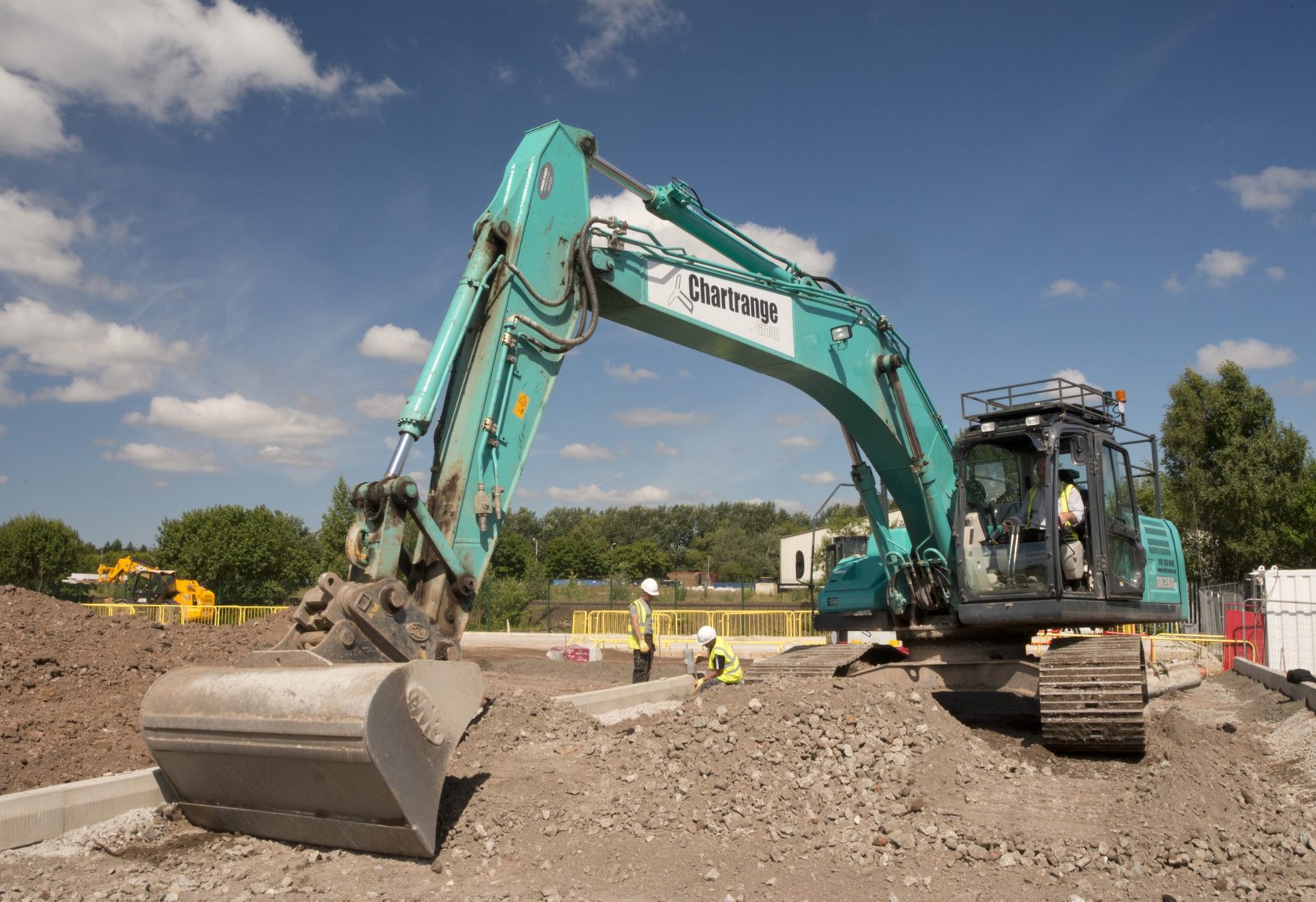 "I have worked with Chartrange on various schemes over the past few years ranging in value from £150,000 to £1,500,000 in both a Bulk Earthworks and Groundworks capacity. I have always found Chartrange extremely easy to deal with both commercially and operationally. They have a very pro-active attitude and are always willing to work with you to overcome problems. Chartrange provide a quality service, with very high health and safety standards at competitive rates and I look forward to working with them again soon."

–Mike Blackburn, Project Surveyor, Willmott Dixon Construction Ltd
Chartrange Enviro
Chartrange Enviro is a division of the Chartrange Group. The main purpose of establishing Chartrange Enviro was to service the construction industry in material disposal and importation of aggregates (materials).
We have the facilities to manufacture a vast amount of recycled aggregates, working from our Waste Transfer Stations, with the help of our own vehicles. We carry an extensive fleet of modern tipper trucks, which are accredited to FORS standard, and equipped with the latest industry leading technology.
Chartrange acknowledge that our operations can have an impact upon the environment. With every project, we identify all significant corporate and project environmental issues prior to our work, and implement control measures to minimise potential impacts. ✔ pic.twitter.com/mzx04C88fX

— Chartrange (@chartrange) December 21, 2018
All of the materials manufactured by ourselves are processed under WRAP protocol, and meet with the Specification for Highway Works.
Our Health & Safety Commitments
Health and safety is at the forefront of everything we do at Chartrange. We promote the highest standard of working practice across the board, complying with industry standard regulation. We are totally committed to the safety of our people, your people and the environment.
As such, all of our site operatives are CSCS/CPCS trained and have attained the required qualifications needed to carry out their work on site.
Chartrange's policy of employing its own multi skilled and trained workforce ensures that contracts are successfully completed within the contract value and delivered to the clients' required programme. 👷‍♂️https://t.co/MGZ444OFhG pic.twitter.com/AT7hIn6MwS

— Chartrange (@chartrange) December 19, 2018
We are GOLD certified Constructionline members, and have been awarded the corresponding 'Deemed to Satisfy' SSIP certificate for health and safety.
Our other memberships and accreditations include: CHAS (The Contractors Health and Safety Assessment Scheme), British Safety Council, Safecontractor, Acclaim.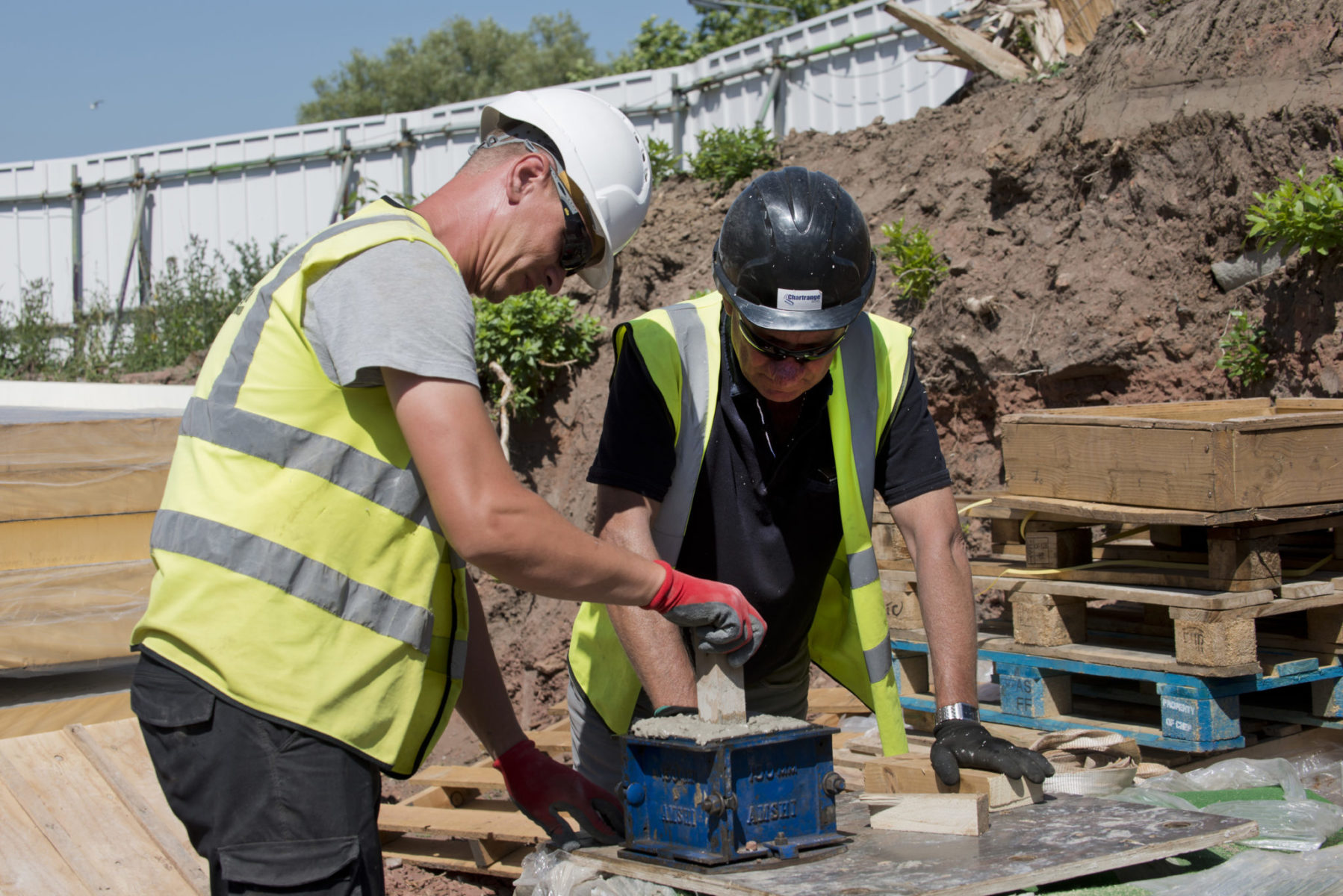 "Their health and safety was exemplary with records and inspections being complete without pressure as well as silenced plant and baffled breakers with added secondary noise defences barriers resulting in not one single noise complaint being received all the time they were on site. It is without reservation I would recommend them to others and look forward to working again in the future. "

– Lewis Wilkes, Senior Project Manager, For John Graham Construction Limited
Chartrange has gained a well deserved reputation in the North West and surrounding areas, and our dedication to health and safety is second to none. The rigorous procedures we put into place before, during and after our operations in order to adhere to health and safety requirements whilst also protecting the environment are what helps us to carry out successful projects time and time again.
If you want to work with us, or have any questions about our services, please don't hesitate to get in touch with us and our team will be happy to help.